CHEMISCHE INDUSTRIE ERLANGEN GmbH (CHING) has been family-owned since 1927.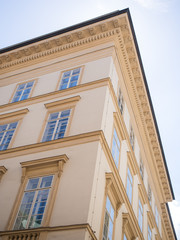 CHING is a medium-sized company that develops and distributes corrosion protection coatings and industrial paints. Due to our superior performance, CHING has been an approved supplier of numerous national and international customers for decades: RWE, E.ON, TenneT, 50hertz, Netze BW, Siemens, ABB, ALSTOM, AREVA, GE Grid, Mitsubishi Hitachi Power, BASF, Bosch Rexroth, Schneider Electric, ENEL, MR, SGB, AVACON, Vattenfall, VEAG, DB, Bast, and many more.
In the last years, our main concern has been to develop low-emission and eco-friendly coating materials that satisfy both the high standards of corrosion protection and the increased requirements for sustainability (environmental compatibility), cost effectiveness and visual appeal. In cooperation with our industrial partners, we have succeeded in developing cost-efficient, state-of-the art solutions for nearly all corrosion protection and industrial coating issues.

Our modern, VOC-reduced 1-component, 2-component high-solid and ultra-high-solid products as well as our high-performance 1-component and 2-component HYDRO products for steel, galvanized steel and non-ferrous metals have been used successfully in all areas of corrosion protection according to DIN EN ISO 12944 for C3 to CX (offshore) and in industrial coating applications for many years.
Our expertise, particularly in the field of water-borne 1-component and 2-component coatings, has helped us become one of the leading manufacturers worldwide that is approved by renowned customers around the world.
By developing a colour neutral iron mica substitute with a barrier effect, CHING has succeeded in meeting the stringent requirements of heavy-duty corrosion protection while opening up an unlimited variety of colours and technical processing advantages compared to iron mica with comparable corrosion protection performance (see Farbe und Lack, Sonderduck 4 – 2013 "Die Zukunft ist bunt").
We consistently seek to tackle the challenges presented by current issues in corrosion protection with our customers as our partners and to implement requirements and preferences regarding new corrosion protection systems by taking a creative and innovative approach.

Serving our customers is our priority.